Pānui ā wiki #1
March 16, 2022
Wānanga Wahakura Blog
April 21, 2022
Tuatahi ka mihi ake ki ngā mate huhua o te wā, rātou kua huri tuarā i te ao kikokiko nei, haere atu rā, oti atu ki tua o Paerau. Tangihia rā e Toi Matarau te wehenga atu a Lee Olsen i tōna pā harakeke. Ka poroaki nei i ōna ringa māhorahora, ringa raranga whatu, kia au te moe.
Tahuri atu ki te hunga ora, ki ngā kaitautoko o Toi Matarau, tēnā koutou katoa.
Kua rewa a Paengawhāwhā ki te rangi. He marama wera, he marama makariri. Tairoa tonu ai a Hineraumati. E tae tonu mai ana a Hinetakurua. He tūtakitanga ā ngā atua wahine.
April is a month of varying weather patterns, a collision of the Sun's two wives Hineraumati and Hinetakurua. At Toi Matarau, in this month's drop, we spotlight an artist who reflects these types of divine encounters through her own unique hybrid sass. Stay tuned into our social media platforms this coming week to find out more.
Mā tō rourou, mā tōku rourou, ka ora ai te iwi. As Māori, sharing our abundance with one another is manaakitanga. We are in extraordinary times with many whānau in Ōtaki who are self isolating or unwell. We would like to encourage everyone to continue sharing kai and rongoā with one another. We also acknowledge the kaimahi of Te Puna Oranga who are responsible for the Government's Covid delivery in Ōtaki.
At Māoriland we welcome, Joanne Hakaraia and Te Waka Rākau Rongoā dispensary. Joanne is onsite from Wednesday to Saturday, 10 - 3 pm to share her mātauranga in the traditional Māori medicinal healing and the cleansing and enlivening rongoā teas and tinctures.
The refurbishment of the Toi Matarau gallery is close to completion. The walls have been replastered and repainted, the matai floors sanded and restored back to their original glory. We will be installing a brand new art hanging system before re-opening with new artworks.
In more exciting news we celebrate ringa toi and former Toi Matarau kai mahi Neke Moa, who has been awarded a grant for a 12-month project researching and developing new art objects and adornment pieces. It was a pleasure to record an extensive interview with Neke and to hear her thoughts and her passion for her artform. In her latest exhibition at Auckland art gallery, Season, Neke has been exploring the hono (relationship, link) between atua, tohunga and tāngata. She uses shells, driftwood, pīngao and many other materials she gathers on Ōtaki beach. Neke has created pieces based on kōrero tuku iho about Papatūānuku, her sisters and their roles in the creation of Te Ao Mārama.
On the weekend before Easter, we facilitated an excellent wānanga wahakura for whānau who wanted to create a harakeke bassinet for their pēpi. We will be holding two more wananga over the next two months if you are interested in creating this taonga for your whanau.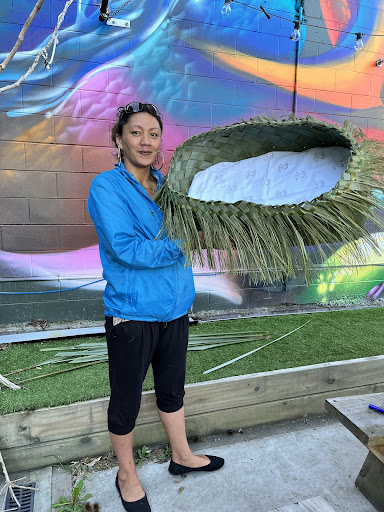 The Toi Matarau team extends a warm thank you for the continued support we receive. The contributions of bubble wrap, art and merchandise purchases, kind words of encouragement and positive feedback, most appreciated and not forgotten.
Keep an eye out on social media and the website for the re-opening of the gallery, the arrival of new artist showcases, upcoming Toi Workshops and events. There will be lots to see and experience and we look forward to opening our doors again to welcome you all back!
Nō reira e te iwi, nei rā te mihi māhaki ki a koutou katoa. Kia noho haumaru ki ō koutou kāinga. Tīhewa mauri ora!
For any enquiries please contact louisa@maorilandfilm.co.nz or maa@maorilandfilm.co.nz M: 022 3953920