Xoe Hall Limited Release Art Drop is LIVE
April 27, 2022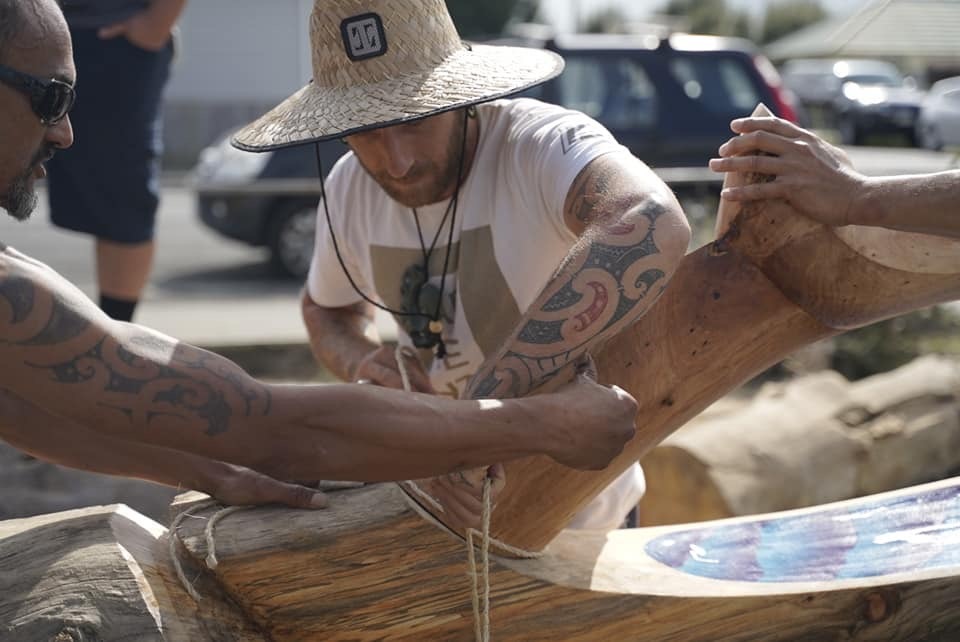 Renowned Te Matatoki Carvers accept 2022/23 Artists in Residence at the Māoriland Hub
June 22, 2022
Te marama whakamutunga o te Maramataka Māori ko Haratua e ngunguru nei. E kore e warewaretia hoki ngā mate huhua o te wā nei. Tangihia rā e ngā rau rangatira o te rohe, te motu me te ao whānui huri noa. Ko te ahorangi tērā a Moana Jackson nāna i manaaki, i whakapoipoi, i whāngaihia te mātauranga Māori ki ngā tāngata katoa. Haere, haere, haere atu rā e te pāpā, kua oti.
A great Tōtara fell from us, Moana Jackson (Ngāti Kahungunu, Ngāti Porou). Iwi of Aotearoa farewelled Moana, a great man, one of a kind. For those that don't know, his expertise and kindness reached many cornerstones. One that he will be remembered for by Māori artists, is his brilliant contributions to WAI262, Toi Iho ™ and creative spaces to mention just a few, nationwide as well as internationally amongst Indigenous first people.

We acknowledge May as the twelfth cycle of the moon in the lunar calendar. It marks the end of the Maramataka Māori for tangata whenua of Aotearoa. Haratua signals all the preparations required to welcome in the new Maramataka. Tidying up all loose ends, preparing for the coldest month of the year, Pipiri.
Toi Matarau has been closed for refurbishment, however on May 4 doors opened to Ōtaki and the public. New artists and new artworks have arrived with more on the way. This May, Toi Matarau welcomes Ursula Keswick (Ngāti Raukawa ki te Kaokaoroa o Patetere), Louie Zalk-Neale (Ngāi Te Rangi) and Hinewaka Hokianga (Ngāti Kahungunu, Ngāti Porou, Ngāpuhi).
Vibrant new works have arrived from local sassy artist Xoe Hall (Kāi Tahu, Irish, Danish, English) and sacred geometry practitioner Huhenia Paurini (Ngāti Raukawa, Ngāti Tuwharetoa, Te Aitanga a Māhaki, Ngāpuhi). Les Hoerara (Ngāti Kahungunu ki Wairarapa, Ngāti Porou) is back also with new canvas prints of his Te Whare Pora o Niwareka series. Jacob Wilkins-Hodges (Ngāti Konohi), a Māori Art Teacher at Te Kura Māori o Porirua has invigorated the gallery with his breathtaking kōwhaiwhai designed, digital print collection of the Maramataka Māori. Hinauri Mead's (Ngāti Porou, Ngāti Awa) nimble fingers have been very busy with another drop of beautiful coloured silk tāniko clutches. A popular and favourite piece of finery more women are pampering themselves with as Hinauri introduces new colours and combinations to her designs. More introductions to come!
Visit Toi Matarau to see the growing book collection in stock. For those curious about the Maramataka, this month's book of interest is 'Living By The Moon' by Wiremu Tāwhai. Republished by Huia Publishers in both Māori and English.
Words of encouragement from the curator of Toi Matarau - 'if you see a piece that speaks to your heart whether for yourself or as a gift for someone special, seize the moment.'
Often visitors are disappointed when the piece they had their hearts set on has sold, so don't delay if you don't want to miss out. Ask for assistance from staff about the gallery's layby system as an option, they are available to help with any questions.
Toi Matarau has been working very hard to reach audiences near and afar with the website, showcasing artworks online and building the gift store. One of the best ways to stay connected with the artists, their stories and journeys more closely is through Facebook and Instagram. On the daily stories are shared with a jam packed content schedule that everyone can enjoy through social media. One can expect a lot of fun entertainment, excitement and engaging content that sheds light and understanding not only about the artists but the Toi Matarau team behind the scenes that is Lou Donnell, Maakarita Paku and Jess Berghan. Te ao Māori encompassed by Toi Matarau artists, continues to grow as the narratives deepen. However if you're not a social media fan, there is always the good old conventional way, face to face with the team in the gallery.
With the arrival of Omicron and other relatives of COVID, it has been testing times for everyone. It is the intention of Toi Matarau as is throughout Māoriland, to uplift Ōtaki with Celebration, Inspiration, Respect and Inclusion. Everyone is welcome, Nau mai, Tautī mai! Hoki mai!
Nō reira e te iwi, ko te tumanako ka ora tonu ā koutou whānau, ka haumaru tonu i tēnei Hotoke. Manaakitia rā te mana me te ora o te tangata, tīhei mauri ora! Stay well, stay safe whānau and keep looking after each other.
For any enquiries please contact Maakarita, E: maa@maorilandfilm.co.nz, M: 022 3953920