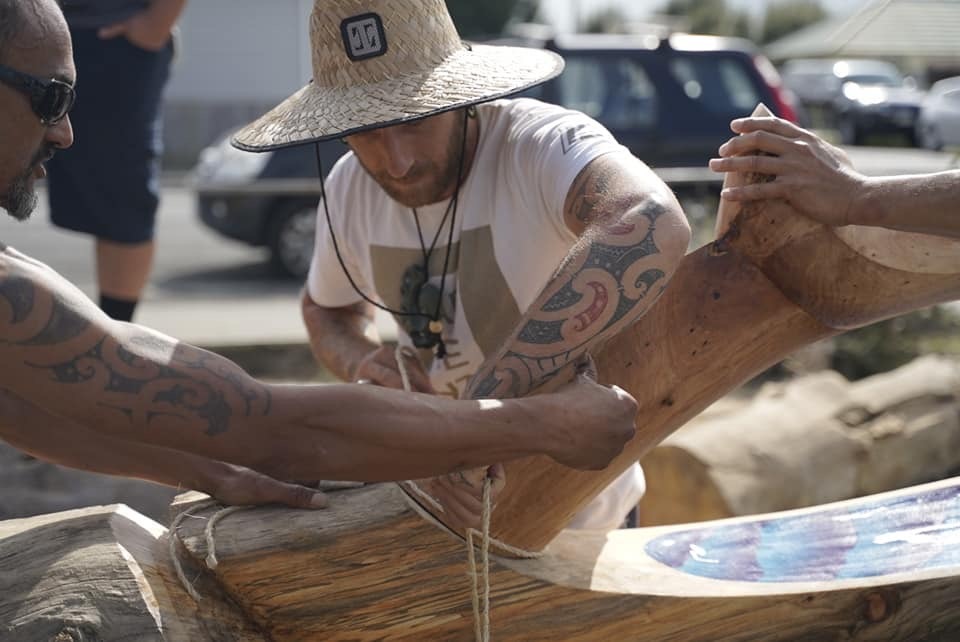 Renowned Te Matatoki Carvers accept 2022/23 Artists in Residence at the Māoriland Hub
June 22, 2022
Toi in Focus – Exhibition Blog
June 13, 2023
Showcasing 'Huatea' during this year's Matariki Ramaroa Festival and MFF2022 was a first.
It's been a joy - koakoa, getting to know the works in this year's bi-annual exhibition by Toihoukura. Toi Māori coming out of Te Tairāwhiti is diverse, vibrant and dynamic. This distinction comes from an abundance of skill both natural and technical and many go on to become first class international artists.
This is synonymous with the kaupapa 'Huatea' - a state of mind known as ruanuku, manifesting abundance through creative excellence. Where endless creative possibilities exist challenging tauira to live in a space of abundance - ohooho.
It's always an honour to assist manuhiri with selecting toi Māori based on the Matariki stories that resonate the most for them - manaaki.
The affirming factor to be highlighted about this exhibition is the investments made by residents of Ōtaki supporting with the purchase of artworks from this beautiful show.
Toihoukura E! Enriching Lives!
This Matariki show is a unique range of 2D, 3D, relief and sculptural works in paint, drawing and woven forms by students and tutors. Artists such as Erena Koopu carry the beautiful compositions of Maisey Rika in her brushstrokes with the 'Ngā Mata o te Ariki Tāwhirimātea' collection and 'Hiwaroa.'
Each artist has celebrated an aspect of Matariki opening the world up a little more to the world of art they live in and a space of abundance - kotahitanga.
Tērā te rerehua e hora nei, ka wani kē koutou katoa e ngā ringatoi o Toihoukura, nei rā te mihi i te ngākau whakaiti o Toi Matarau, o Māoriland.
Huatea closes August 27th so don't miss out on the last chance to visit and find something special. For any enquiries just ask Maa - 022 3953920 or maa@maorilandfilm.co.nz
Alongside Huatea we have new works from Darcy Nicholas (Tauranga Moana, Taranaki) and Michel Tuffery (Tahiti, Tonga, Samoa) in the house!
And wow to the mauri in the gallery since their works have been installed. Toi Matarau has transformed again.
Each time new works arrive there's a flurry of excitement. Like when Darcy, son James, Michel and wife Jayne stopped by to deliver their mahi in person.
But also their time spent taking in all the movement happening at the hub as well as have a good look at the range of toi in the gallery.