April update – a month of colliding weather patterns
April 21, 2022
Xoe Hall Limited Release Art Drop is LIVE
April 27, 2022
(Featured image: Kirsten Hapeta, Manu Carkeek, Maru Karatea-Goddard)
Ko te wahakura He waka huia He whare oki i te pō marino He āhuru mōwai kia poipoia te kākano i ruia mai i Rangiātea With the support of Hāpai Te Hauora; Change For Our Children and Ministry of Culture and Heritage, Māoriland facilitated a beautiful wānanga wahakura for whānau who wanted to create a harakeke bassinet for their pēpi. Pip Devonshire was our pou whakawhirinaki, our lead mātanga (expert). She spent time innovating new designs to create an āhuru mōwai that would be comfortable and safe for babies, practical, as well as faster to weave. She worked tirelessly to support all whānau who were learning how to make a wahakura.
We were honoured to also have Aunty Sonia Snowden, Charlene Fraser, and Maru Karatea-Goddard come and support this beautiful kaupapa. We had hapū māmā, kuia and koroua woven together with the same goal of creating a pungently organic safe sleeping space for our taonga. Maru Karatea-Goddard spoke about the takapau wharanui - a whāriki used to birth on, be betrothed on, and also, once one passes into the next life, one's body is wrapped and laid to rest. These sacred moments were captured within the very weave of the harakeke. This is also echoed in the renaissance of wahakura being adapted for safe sleeping by Hapai te Hauora and their SUDI prevention programme, The wahakura is a woven space for our tamariki mokopuna to find rest and growth all the while being close to their ūkaipō (breastfeeding mother). This is a cherished time for māmā and pēpi.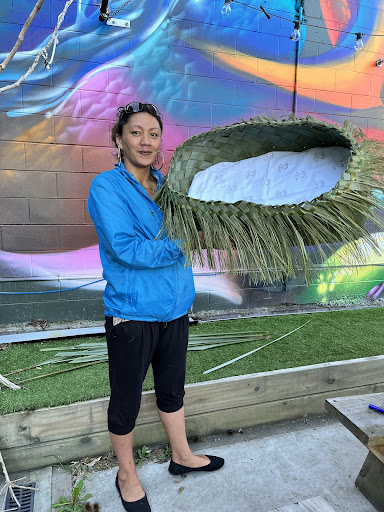 One of the mothers making her second wahakura spoke of how well her third baby sleeps in his wahakura. She believes he reacts positively to the smell and the filtering of light through the harakeke. His older brothers always know where he is sleeping so there is no danger of accidentally hurting him. This māmā also enjoys being able to easily lift the wahakura to have it in her bed so she can peacefully breastfeed baby throughout the night.
Māoriland is to host two more wānanga over the next two months. Please text Maakarita on 0223953920 or email maa@maorilandfilm.co.nz to register your interest.